I'm home sick today because the cold I had has become full-blown, likely agitated by the dust of our old place (you never realize how poor your dusting skills are until you move) and the sawdust of the new place (from the floors), so I've finally decided to devote some time for an update.

As most people who know me know, on my 28th birthday I became engaged to some guy I met on the Internet. We are very happy indeed.

Along with The Office on DVD, he got me a mighty fine gift that I wake up in the middle of the night over, scared that I have lost it: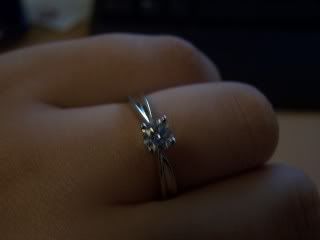 We haven't done much wedding planning / thinking as we've just moved into our first home. The place is a disaster as we haven't had a lot of time to unpack it properly. It appears that we have more stuff than space (especially clothes) and need to do (yet another) purge. The flooring, however, came in beautifully and I will spend the rest of my days here obsessing about any scratches that may come to it.

So, to summarize, my thoughts are now on Benadryl, towels I'd like to put on a registry and hardwood care. It appears that I have become an adullt.